How it Works - Email Checking
You can also check a code-pair by email.
Please note: When you submit an email check, the system will automatically set the item to a status of 'Sold'. So please only do this if in fact you have purchased the item.
The pair of codes on every label is world wide unique to the single item to which it is attached.
Open your email client and set the To address to 444@tmwia.com
On each security seal you will find two numbers: a long one and a shorter one.
Type the long code (always 13 digits) into the Subject line of the email.
Type the shorter number into the body of the email.
For both numbers you may include the spaces or omit them - as you wish.
Send the email and shortly thereafter you will receive back a response email with the results of your enquiry.
See on the right for an example.
If the details in the email match your product then you know it is genuine.
If you are shown some warning message, or if the details of your product do not match the description, there is a problem and you must get in touch with us.
The item you have is suspect and needs to be investigated.
See samples of warning messages on the next page.
You may well decide to not buy the item, but we would be grateful, for the benefit of other purchasers, that you still fill in the Contact Us form, so we can investigate and take the matter further.
Tap the Contact Us button, fill in your details as well as where you purchased or checked the item, and we will get back to you as quickly as we can - typically within 24-48 hours, though often it may be much quicker.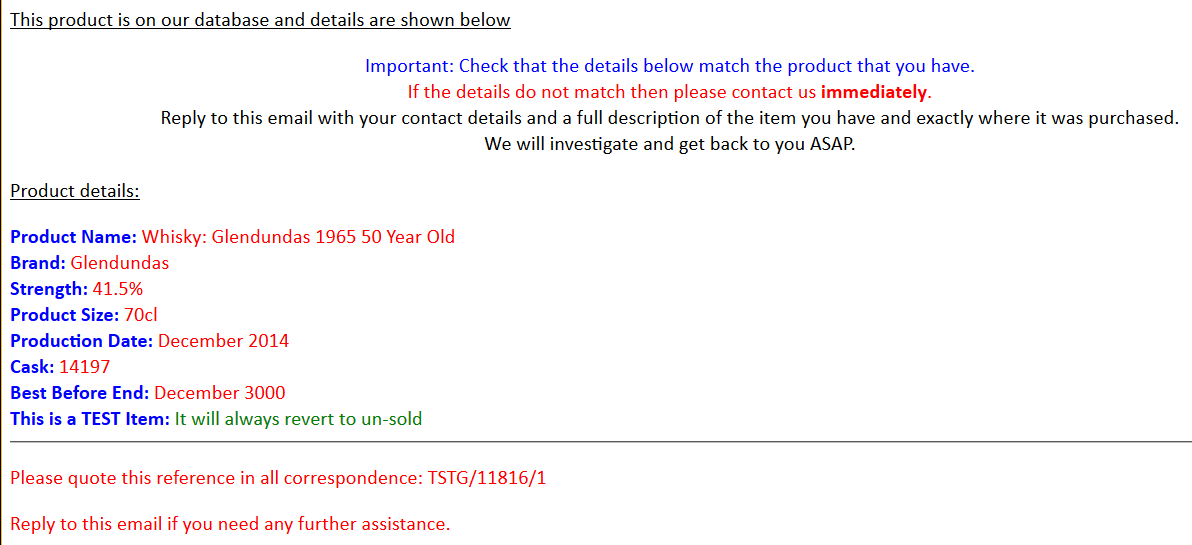 Click on the image above to enlarge it.